Stamped Concrete Colors are used mostly on patios, driveways and pool decks to make them more astonishing. In this article, we are going to tell you everything you ever wanted to know about stamped concrete colors. Stamped concrete coloring is a fairly easy work but you must know about it before getting yourself into it. So, let's start.
Everyone dreams of a house or a perfect building. You look for the best interior and make sure the house's exterior is as you always wanted. Nowadays, the house design that is most in is Stamped Concrete.
Stamped Concrete is a patterned concrete floor that makes your building or house look modern and vintage. You can see every other house getting stamped concrete for their house, and you must be wondering what it is and how you can get it for your house. Let's not take things long and get to the topic right away!
What is Stamped Concrete?
Stamped Concrete is a concrete mostly used for patios, driveways, interior flooring, etc. This type of concrete is patterned or textured that resembles bricks upon full installation. Stamped Concrete is widely used worldwide in different places.
A Stamped Concrete is a modern look that you can give to your house or building. Right now, you will see every other house has stamped concrete installed on various parts of their house. Stamped Concrete is easy to install, and you can install it by yourself or with the help of a professional.
Concrete stamping is a process that takes almost 12 days to come to its full form. Another thing about concrete stamping is that it is a cheap process, so you won't have to worry about spending a hefty amount to make your house look decent.
Want to learn more about concrete?
Stamped Concrete Colors
When we talk about Stamped Concrete, it is important to know about Stamped Concrete Color. If you have absolutely no knowledge about Stamped Concrete Colors, there is a chance that you will not be able to get good concrete stamping in your house.
Stamped Concrete Colors should be selected with proper planning and with the help of a professional. Stamped Concrete Colors vary from dark to light, and you have to select which shade will look perfect on your patio, driveway, or pool deck. There are also a lot of other places you can get concrete stamping, but these three are where most of the concrete stamping is done.
Stamped Concrete Coloring is a long process that needs your full attention, or the color can get different from what you want. So you must keep all of these things in mind. In this article, we have explained everything you need to know about stamped concrete colors. This article will help you if you are interested in having concrete stamping in your house.
What is the purpose of getting Stamped Concrete Colors?
You can have your house built with modern trends because anything trendy nowadays is perceived as good. Stamped Concrete Colors are sharp and make your patios, driveways, and pool decks look more finished and collected.
Visit a place with concrete stamping, and you will see that it is one of the finest types of the modern house exterior. No one can escape that stamped concrete colors make your house exterior look attractive and different.
Stamped Concrete Colors: Everything you need to know about it
Concrete stamping isn't as simple as it looks. It is a long and hectic process that takes a few days to complete. Stamped concrete usually has two major coats of colors: A base one and another accent color. You must be extra cautious about the colors you select for Stamped Concrete, as the colors used for it are mostly dark and warm shaded. These types of shades of colors are to make the surroundings calm and clean.
Base Color
Base color is the most important coat in stamped concrete colors. Base color is the coat that decides your final color as the final result. So it would be best to be careful while applying it to the concrete. It can damage the whole color scheme if not done properly.
Accent Color
Accent color is the final coat to preserve the color scheme. It is also to be done with extra care because the colors are permanent and can stain anywhere. Accent colors are the results ofstamped concrete colors.
You must know what you are getting yourself into by having stamped concrete colors. Don't you worry, we will tell you everything about this.
How are Stamped Concrete Colors done?
Stamped concrete coloring is done in a few steps. Each step possesses its significance. You must have good quality concrete and a piece of good knowledge about what amount of color powders to mix in the concrete. This way, you can have your perfect color.
By the end of this topic, you will know all about Stamped Concrete Colors and how you can make them by yourself. So let's start.
This is a three to four steps process that can be easy and might be hard. For a professional, its installation is nothing. So you should also hire someone who knows what he's doing. Stamped Concrete Colors are no joke, and you should be careful about who you are hiring to get concrete stamping. You must be thinking about how it's done. Come on, let us explain this to you.
Following steps are taken to install a Stamped Concrete Color in your patio, driveway, or pool deck.
Integral Colors
Color Hardener
Release Color
Stains
Let's know about all these steps in detail, so if you want to do with yourself, you will know what you want to do with all the materials you have.
Integral Colors
Integral colors are added to the concrete to make the Stamped Concrete Color long-lasting and permanent. Integral colors are added to the concrete while mixing it to go well during installation. The advantage of integral color is that you will always have the real color if the concrete fades away or wears out. Your stamped concrete will not be color-damaged.
Advantages of Integral Colors
They are really easy to use. Professional or not, anyone can use them.
When mixed into the concrete, it provides a good and permanent color that doesn't fade away.
Even if the concrete gets chipped or broken, the color will remain as it is.
Disadvantages of Integral Colors
The color options are less vibrant and light. If you are looking for some darker shades, you can't achieve them with integral colors.
Therefore, integral colors are mostly used on surfaces to finish the look.
Color Hardener
As it is obvious from the name, a color hardener provides a hardened finish to the concrete at the initial stage. A color hardener locks the actual color and does not let it fade away. Color Hardener is mixed with cement and is then applied to the surface as it shakes on. This makes the surface smooth and dry for the last and most important coat, which is the release color.
Advantages of Color Hardener
They have many bright colors and have plenty of options to choose from.
They have in making the surface denser and smooth. This is because they contain fine cement.
Disadvantages of Color Hardener
You need a lot of labor because they have to be cast by hand. If your stamping area is large, this can be a problem for you.
Color hardeners are applied only a few inches to the surface. That is because they are costly. This can result in the cement being shown from underneath the surface.
Release Color
Release color is the final coat applied to the concrete for finishing. This color provides a clean and finished look to the stamped concrete. Release color is usually of a darker stage that matches the base color. Be sure to choose a darker shade because it will help make your stamped concrete color long-lasting and permanent. Release color is the final stage of stamped concrete coloring, and after this, your surface is all ready for use.
Advantages of Release Color
Release color, which can be in liquid or powdered form, helps stamp mats not to stick to the surface and ruin it.
They give a unique color shade with integral or dry-shake color that makes the surface look antique and vintage. Release color helps make sure that you have the color you wanted all along.
A release agent is mostly used for contrast and to make a good finishing look.
Disadvantages of Release Color
Release colors are very hard agents that can stain nearby surfaces. So you just have to keep a check if you are ruining any surface with it. You should be extra cautious while working with it.
Powders require more cleaning up, but they are better than liquid release agents.
Stains
Stains are used in Stamped Concrete Colors to make a good aesthetic appeal to the concrete. They are applied here and there over the surface to bring colors. They are the reason you see some antique looks in concrete stamping.
Advantages of Stains
Stains react with concrete and create a good look that makes your stamping look more real.
You can apply stains randomly over the surface that cannot be done with integral colors or hardeners.
Disadvantages of Stains
Stains are transparent and give a slightly different color.
They are used with dyes to give more intensity to colors.
Coats of Stamped Concrete Colors
As we mentioned above, stamped concrete has two coats. Basecoat and accent coat. This procedure helps make the stamped concrete long-lasting and to avoid chipping.
Some things are important to be added to the concrete to carry out a stamped concrete color.
Above are all the different materials and coats included in stamped concrete colors to make the concrete stamping long-lasting and permanent. A professional concrete stamper can guide you through all the procedures and the coats, so you will have no problem doing them yourself. If you want, you can hire a professional for this too. They will make it work quicker.
How To Do Stamped Concrete Color?
If you want to work on concrete stamping, we have described some steps for you to take. If the area of concrete stamping is more than you think you can do, we advise that you hire a contractor for it. This way, your work will be done quickly and smoothly. But if you think you can do all the concrete stamping yourself, it's alright too because we have mentioned some steps below for your help.
First of all, you will need concrete. You must calculate the amount of concrete you need according to your area. If it's small, you can mix concrete by yourself, but you can easily order mixed concrete online if it's a bit larger.
Now, here are step-by-step instructions to do stamped concrete color.
Adding Color Pigment to Concrete
Make the surface smoother
Stamp the concrete with stamped mats
Remove the Stamp Mats
Let them Dry
Apply the Release Color
Let's talk about the above steps in detail.
1- Adding Color Pigment to Concrete
The first step to doing Stamped Concrete Colors is adding the color pigment to your concrete. Keep in mind that the ratio of base color pigment is 0.4% to 0.10% compared to the weight of concrete. A little mistake in this ratio mixing can ruin the quality of your color. The more you add pigment, the darker it will be. Do check the package of color pigment before adding it to the concrete.
2- Smoothing the Surface
The second step is to pour the mixed concrete on the surface where you want to do stamping. Smoother it with a trowel and let it rest like this for approximately 30 minutes. The next step will be to apply color hardener as a dry shake.
3- Stamping the Concrete With Stamp Mats
This step is important because it gives shape and structure to your concrete. All you have to do is buy Stamp Mats from any online store or any of your local stores. You have to stamp the concrete with stamp mats because the shape will get imprinted on the surface, and this way, your concrete stamping will be halfway done.
4- Remove the Stamp Mats
Well, this step is kind of obvious. You have to remove the stamp maps after you are sure that they have left an imprint. After removing, you can highlight the lines and surfaces if you want. This will give a good finish to it. After the stamp mats are removed, you must let the stamped concrete colors dry.
5- Drying Stamped Concrete Color
You do not need to be quick in this process. If you want better results, you must have to be patient. Stamped concrete takes approximately 5 to 6 days to dry. Let them take their time because the results will be all worth it.
6- Apply the Release Color
After drying, the last but not the least step is applying the release color. Make sure to highlight the lines and curves. After applying the release color, let it dry and then wash it with water. The last step is to apply a sealer over it for its preservation.
The procedure isn't hard, that's for sure. You must have to be keen on what you are doing. If you are into doing something for your house, this little task will be nothing to you. If you want to hire a contractor, it's okay too. A contractor will know what he is doing and make you a perfect stamped concrete color.
Patio Concrete Stamping
Mostly the concrete stamping is done on patios. It is to make the outside of your house more long-lasting and beautiful. A well-done patio Concrete Stamping is a nice thing in a house where you can relax and have the time of your life. Patio Concrete Stamping is done with an extra-long procedure requiring a good quality stamped concrete color.
Stamped Concrete colors are usually double shaded. That is to give them a sharp and sophisticated look that resembles bricks.
Patio Concrete Stamping helps give your house a better aesthetic appeal and makes it more beautiful. Several homes have patio Concrete Stamping, and it's a good way to make your house look good.
There are many color options for Patio Concrete Stampings. We have put forward some of them below.
Earth Toned Color Schemes
Natural Toned Color Schemes
Gray Color Schemes
Multi-Colored Schemes
Tile Patterns
Now let's talk about all these color schemes in detail.
Earth Toned Color Scheme
Who doesn't love tan and brown colors? Earth Toned Color Schemes are liked worldwide by many people. The colors included are tan, brown, and terra-cotta reds. The advantage of this color scheme is that it gives a soothing and calm effect to your patio, so if you want to have tea, this place will be your go-to relaxing place.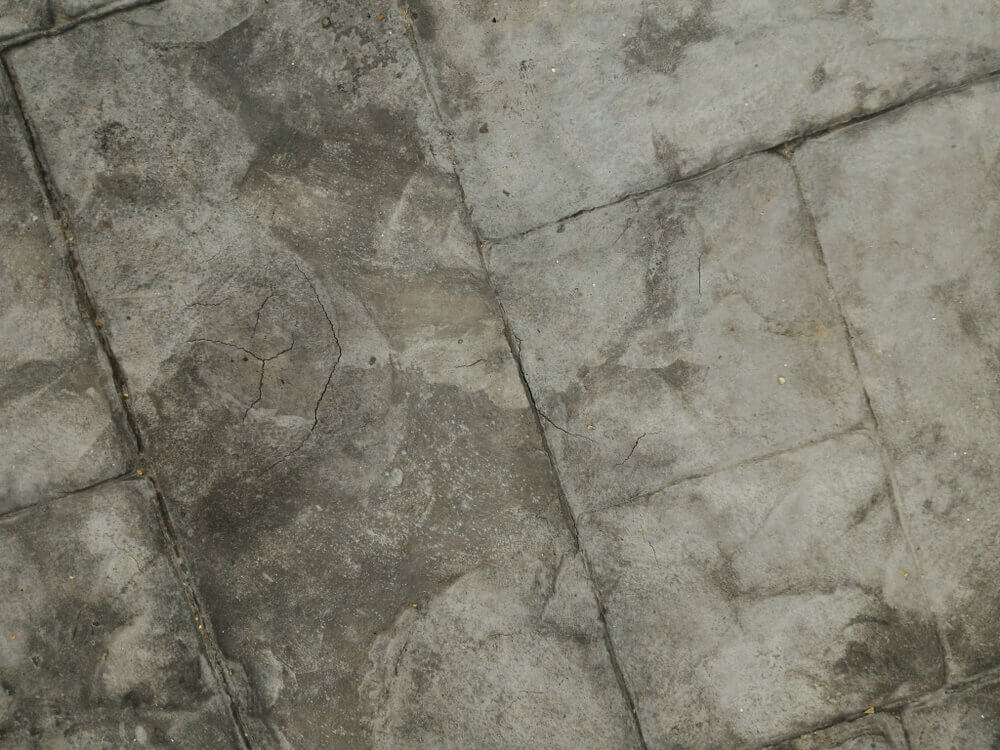 Natural Toned Color Scheme
This color scheme is the most popular among other color schemes. Natural colors give a homey and comfortable feeling, and it looks clean and smooth on your patio. The colors included in natural-toned color schemes are slate, travertine, and bluestone. Many color agents are used to giving them antique and multi-tone effects to make them aesthetic and beautiful.
Gray Color Schemes
Gray Color Schemes are more inclined toward light shades that make your patio Concrete Stamping look absolutely gorgeous. Gray color stamping can make it look like stones and give one of the best looks. It makes your patio look antique and vintage.
Multi-Colored Schemes
To achieve multi-colored stamping, you should be cautious enough with release colors and whatnot. Multi-Colored patio concrete stamp can be a little costly, but the results make it all worth it. You can make different kinds of art designs on the concrete, too, with the help of an artist. Multi-Colored patio stamping can be more personal and a favorite to you.
Tile Patterns
You can give your patio a look at tiles by cutting the concrete into whatever tile pattern you want. This look of patio concrete Stamping is quite popular in many countries, and many people get it for their patios. You can make the tiles in whatever color you want.
Above we explained the most popular color scheme of patio concrete stampings. You can have whatever color scheme you want on your patio or can customize it according to your liking.
Best Stamped Concrete Colors 
It is a must-do thing to look for the best stamped concrete color combinations to make your patio or driveway look gorgeous. You should select the colors that compliment your house exterior and look good with the color of the paint of the entire house.
We have mentioned the top three stamped concrete colors that most people build in their houses. These are:
Gray Stamped Concrete
Brown Stamped Concrete
Red Stamped Concrete
Tan Stamped Concrete
Natural Shades
Every stamped concrete color is according to the preferences of the house owner. But since we are talking about the colors, let's see what each color can do for you.
Gray Stamped Concrete
Gray Stamped Concrete is mostly used if you want a lighter look. They can replicate stones or vintage looks.
Brown Stamped Concrete
Brown Stamped Concrete can resemble bricks or mudstones. This color of stamped concrete can be light shaded or dark.
Red Stamped Concrete
Red Stamped Concrete is also a great look to build into your patio. They look modern and give a classy look. The shade of this color can also be varied.
Tan Stamped Concrete
Tan Stamped Concrete is different from brown and lighter in the shade. It gives a chic look, especially when it is done on the patio. Tan Stamped Concrete is gorgeous looking, and it can attract a lot of people.
Natural Shade
You can get many natural shades on your patio, driveway, or pool deck. Natural Shades look like bricks, stones, and slates. This is the shade most people lean towards because it gives a sense of style and design.
You can put stamped color concrete in one color but can also play around with different shades to create a fun look. You can mix different shades to carry out a new color too. Concrete stamping is an art, and the more you are an artist, the more ways you will have to make it look extra gorgeous.
Stamped Concrete Color Combinations
There are several ways to make your perfect type of stamped concrete color combinations. You can make the best combination by yourself, and we are here to help you do so. If you are looking for some modern stamped concrete patterns, we have put forward some of the best designs.
You can get a whole chart for stamped concrete colors. Below we have mentioned some worthy color shades for you.
White Stamped Concrete Color
Cream Stamped Concrete Color
Walnut Stamped Concrete Color
Beige Stamped Concrete Color
Let's see why you should get any of those, as mentioned earlier, stamped concrete colors for your home.
White Colored Stamped Concrete
That's the most decent look you can ever get with Stamped Concrete. It's light and makes sure to reflect all the light coming from outside.
Cream Colored Stamped Concrete
Cream-colored stamped concrete also serves the purpose of the white concrete stamping, but it has more level than white stamping. You can use this cream-colored stamped concrete in your yards, swimming pool areas, and patios.
Walnut Colored Stamped Concrete
Walnut Colored Stamped Concrete looks sophisticated and classy. It is the top choice for many people as it is the most popular concrete stamping. Another advantage of this is that it's easy to maintain and clean.
Beige Colored Stamped Concrete
If you are looking for a dark stamped concrete color but don't want a walnut color, beige will be the best option. There are many beige shades for you to choose from. Beige Colors look gorgeous on patios and driveways.
These combinations are told to you just for your consideration. You can combine colors other than these to make your own stamped concrete color. Concrete stamping can be done in various ways, and you can choose whatever way you want to take.
Now let's talk about the patterns of stamped concrete colors. Stamped Concrete Patterns are unique in their way.
Stamped Concrete Color Patterns
You can find a lot of patterns of stamped concrete in markets and online. Everyone has their preferences and likes, and there are plenty of patterns you can choose from. Here we have mentioned some of the most popular patterns. Who knows, you will like them.
People's most popular patterns in their patio, driveway, and pool decks are stone, bricks, and regular and irregular shapes.
On Pool Decks
Most people get wood and slate patterns on Pool Decks because they look clean and decent. However, if you want any other pattern, you can easily get it installed too. Pool Decks should give a relaxing feeling, so the patterns used there are calm and light.
On Patios
Bricks and stone shapes are mostly used on patios. These patterns make the patio look attractive and comfortable. Patios are a place where people relax in their homes, so you should get some that are beautiful and serene.
On Driveways
Mostly irregular and stone patterns are used on driveways. This type of stamped concrete looks gorgeous in the front of your house and gives an aesthetic appeal to it. Your modern stamped concrete driveway should look unique in-between other driveways.
Other than the patterns above, you can give your customized patterns too. Your home is all about how you want it to be, so give it a new style to make it unique among others. You can google some of the patterns and show them to your contractor.
Maintenance of Stamped Concrete Colors
Once you get a stamped concrete color in your home, you need to take care of its maintenance, or else it's going to fade away. If you want to make your stamped concrete colors long-lasting and hope to avoid recoloring them every other month, it needs to take full responsibility.
Stamped Concrete is sealed, so there's no way that any weed or grass can grow out of it. The surface is smooth and if you don't want to get it chipped faster, make sure the material you use is of high quality. They are water-resistant and don't get damaged by water. That is why you can see most concrete stamping on pool decks. Another thing about concrete stamping is that it can last decades if you are careful enough to use it. If you want to clean the surfaces, you can use a detergent or cleaner.
To prevent stamped concrete colors from damage, you just have to get a color coat on it every few years. This is a quick process that doesn't need much money. So you can do it whenever you feel like your stamped concrete wants some maintenance.
Once you get stamped concrete, make sure to have a coat of sealer on it. This coat will seal all the colors and won't let them fade away easily. You can use a color hardener over the stamping whenever you want to.
Why Should You Get Color Stamped Concrete? 
Stamped Concrete Coloring is all about the artistic procedure and hard work. Stamped Concrete Color is aesthetically pleasing and gives an exciting look to your house. But why should you get colored stamped concrete? There are a lot of reasons for it. So let's take a look at them.
Stamped Concrete Colors are a way to make your house more appealing and charming.
They are easy to install, sometimes without the help of professionals.
If you are looking for some innovative ideas for your home, we recommend getting stamped concrete colors because they are modern and unique.
You will have plenty of options to choose from.
Let's talk about these factors in detail and see if you want stamped concrete colors for your house.
Advantages of Doing Concrete Stamping
You must be wondering what advantage concrete stamping could give you. Well, there are a lot of pros to getting concrete stamping with stamped concrete colors.
Let's see what advantages concrete stamping can give you and your house.
   A Lot of Options To Choose From
   Longer Performance
   Easy Installation
   Affordable
   Easy to Maintain
   Easy Repair
We should get in detail about these advantages to know more about them.
   A lot Of Options To Choose From
One of the top priorities of any buyer is to have several options to choose from. This makes it easier to decide and to have chosen the best. Stamped Concrete Colors also have many options where you can choose whatever seems best to you.
Since stamped concrete is usually installed outdoors, it is necessary to make it have a longer life. If stamped concrete colors are low quality, it will become a problem for you. So, to make patio stamped concrete long-lasting, it is best to make sure that it is made of high-quality material.
Stamped Concrete is fairly easy and quick to install. Patio Concrete Stamping is easier to install than any other concrete stamping. If you are getting it for your home, it's good news because you will be done with it quickly and can enjoy your stamped concrete colors on your patio.
It will be news for you! Concrete stamping is really affordable, but if you go for patio Concrete Stamping, you will find out it is more affordable than anything. It is because the material used for it is easily accessible and cheap. So if you are looking for something affordable, now you know what that will be.
Concrete stamping is fairly easy to maintain. It doesn't get damaged or broken easily. You won't have to worry about this problem because it doesn't get chipped or cracked easily. But you must reseal it once every other year to make it last longer.
Concrete stamping is very easy to repair. First of all, it doesn't need that much repair, only when it is really necessary. You can get it repaired with only some amount of money if there's a need for it.
Above are some of the advantages we told you about Concrete Stamping and Patio Concrete Stamping. Stamped Concrete Colors are best for you to make your home luxurious. It is also suitable if you don't want to have a constant worry over your head to renovate Concrete Stamping.
Problems With Concrete Stamping 
We just shared some advantages of Concrete Stamping with you, but you should also know that there might be some drawbacks. There aren't many, but still, some things may not look very interesting to you about Concrete Stamping and Stamped Concrete Colors.
Let's see what they are. We are sure they wouldn't be a big problem. It's just some minor things because nothing is perfect!
Cons of Concrete Stamping and Stamped Concrete Colors
   Cracks Easily
   Resealed Every Few Years
   Difficulty Finding Colors
Let's crack all these issues.
Well, that sure is an issue. Concrete stamping is more likely to crack easily, but if you take care of it alright, then there's nothing that can make it crack. Cracking mostly happens when the patio or driveway is used frequently. This is unavoidable, and you will have to maintain it now and then.
Has to Reseal Every Few Years
Resealing is a must thing if you are installing concrete stamping in your house. Every other year, you have to reseal the stamping, or else it can have cuts and chips and will get broken.
Difficulty Finding Colors
As you know, finding the best color options for stamped concrete colors can be quite hard. There are millions of options to choose from, and you can get confused by all of them. To find the best stamped concrete color combinations is also difficult because there is a chance that your patio or driveway can get mismatched. You must have to know a lot about concrete stamping and stamped concrete colors before making a decision.
These were all the major cons that come with getting concrete stamping. But these are all something that can be sorted out with a little planning, so you don't need to worry about not getting it.
Learn more about concrete resurfacing.
Frequently Asked Questions (FAQs) About Stamped Concrete Colors
What is the difference between primary color and secondary color in stamped concrete color?
Based color refers to the primary colors used as the first coat. Secondary colors are the colors that are applied above base colors to have a permanent finish.
How to remove too much color release agent?
You can remove the color release agent with the help of a detergent or any cleaning agent. But be sure to use it cautiously, or else all the colors will be damaged.
Conclusion 
Stamped Concrete Colors are the best thing to make your house look attractive and different from anything else. There are several stamped concrete designs and colors, and you can choose from different varieties to make a perfect home for yourself.
We have mentioned everything you need to know about Concrete Stamping and Stamped Concrete Colors. Now you can form an opinion about whether you want it in your house or not. We know that Concrete Stamping is something everyone wants to have in their house. You will not regret getting this concrete stamping in your house. So don't think, just get it before it's too late!
Read more about concrete.